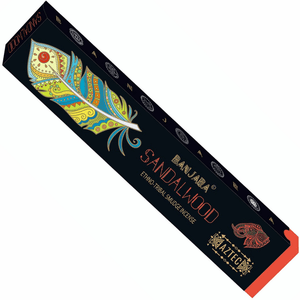 ᴜꜱᴇ "ɪɴᴄᴇɴꜱᴇ" ᴅɪꜱᴄᴏᴜɴᴛ ᴄᴏᴅᴇ ᴀᴛ ᴄʜᴇᴄᴋᴏᴜᴛ ᴛᴏ ɢᴇᴛ 3 ᴘᴀᴄᴋꜱ ꜰᴏʀ $10!
"SANDALWOOD "
Sandal wood are heavy, yellow and fine grained and unlike many other aromatic woods, they retain their fragrance for decades. It has the ability to encourage mental clarity and relaxation. 
15gram box with approx 10 thicker smudge incense sticks.