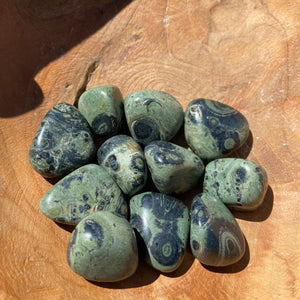 ♡ Kambaba Jasper ♡
Chakra: Heart
Zodiac: Scorpio 
• Stone of peace, tranquility and fertility.
• Its green energy connects you with nature, while the beautiful, mystical circles and swirls provide comfort and protection. 
• This beauty protects, heals, grounds, soothes, promotes strong boundaries, eases fear, and mends broken spirits.
• Use Kambaba Jasper to get into a deep meditative state. Relax and restore balance to your body and spirit!