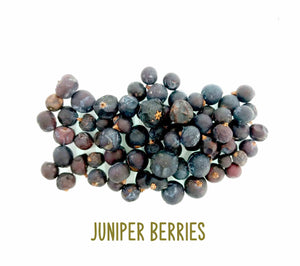 𝔇𝔯𝔦𝔢𝔡 ℌ𝔢𝔯𝔟𝔰 𝔉𝔬𝔯 𝔖𝔭𝔢𝔩𝔩𝔰 ~ 𝔗𝔢𝔞𝔰 & 𝔐𝔬𝔯𝔢
"JUNIPER BERRIES - Protection & Lust"
String the berries as a charm to attract a lover.  A sachet of berries above the door is said to protect from theives, curses, injury and illness.  Crush the berries for use in healing incense.
20g packet.